The Letterman Sweatshirt - Take Ivy in 2020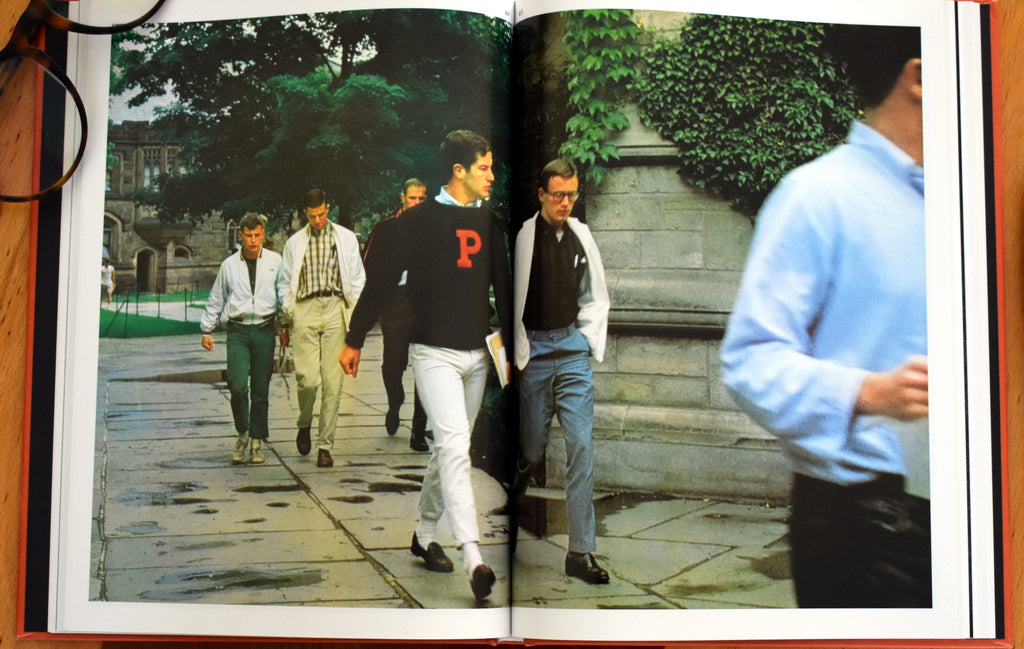 In the mid 1960s, a group of Japanese reporters visited the US on a fact finding trip. Equipped with their cameras and notebooks, the team spent a month documenting life at US Ivy League institutions, understanding what it meant to live, work and play at the most prestigious Colleges in North-Eastern America.
When Take Ivy was first published in 1965, the Queen had been on the throne for just over a decade, the Beatles had yet to release Yellow Submarine and NASA was still four years away from launching Apollo 11 and putting a man on the moon. Yet the implications of the Ivy League lifestyles and fashions first documented 55 years ago still resonate today and are the bedrock of contemporary smart casual style. The Ivy League scholar's dress code "is casual, yet neat", but "an Ivy Leaguer's ideal lifestyle is to study hard and play hard". Most importantly, though, "being an Ivy Leaguer requires being approachable and being able to be 'good company'"... very O&F Sporting.
Take Ivy: a chronicle of Ivy League style
Fast forward to 2020 – O&F Sporting are building a range, and where better to look for inspiration? We loved Take Ivy not just for the images and styling of the mid-60s, but for the personality that comes through and the implications for our own garments. Our sporting outlook is very much the same. We value sportsmanship, dedication and being an all round good companion – they're all just as important. Adorning the crest of any sports team on your left breast has a certain level of responsibility – and, of course, you when you play, you play with the values and ethos of your teammates as part of that. But, more importantly, what stands out for us is the sense of belonging that any sports jersey gives you – it's tribal, an earning of stripes, being part of a community.
In between images of folks rocking up to lectures on bikes with wooden tennis racquets in hand, it's the Letterman's Sweater that really stands out. A Princeton undergraduate strides confidently from one class to another, with a big red "P" stamped onto his navy sweatshirt. "A letterman's sweater", the book reads, "exhibit[s] the school's honor and the wearer's achievements, the glorious 'P' on the sweater is given only to prominent athletes". We don't approve of the spelling of "honor" either, but we'll forgive our American friends!
How do you go about creating a piece that's just as relevant today? It's no secret that large emblems and bright colours from 90s vintage collections are back in vogue. It's also no secret that, whether we realise it or not, the Letterman's Sweater has a timeless appeal which is still as popular.
We decided on the O&F Sporting Classic Sweatshirt as the answer. Our design process started a few months ago. We used my favourite old school sports sweatshirt, which has faithfully served me for over a decade, as the basis for our design. It's been worn on a weekly basis since 2006, has travelled all over the globe on various sports tours and holidays and has slowly become a treasured and trusted part of my wardrobe. Experimenting with the design, we pin letters to the outside to check dimensions and positioning – concept approved. Next, we go about finding a replica. In the same style, our O&F sweatshirts use a combed cotton sweatshirt of the same weight, with a really cosy fleece lining and a hint of nylon for a cleaner fit. We take the navy as our first design and choose other colours to add to the range. Now: production. 
The faithful school sports sweatshirt - a wardrobe mainstay since 2006
It's June 2020. Lockdown is gradually lifting, the sky is a piercing blue at 7.30am, and clouds float like cotton wool in the warm morning air. Somewhere in the southern Lace Market district of Nottingham, the silence is pierced by the sound of a padlock being unlatched and the wrought iron shutters of a Victorian brick industrial are pulled up for the day. By 9 o' clock, 100 years of collective garment making knowledge and experience is inside the building – our factory comes to life. Our sweatshirts are stretched into position, yarn tensions checked and the embroidery machine kicks into action. "O" "&" "F" is painstakingly etched to the front of our sweatshirt with a state of the art appliqué system, labels are dextrously added and our garments are ironed, checked and packed – each sweatshirt takes two days to produce, with the type of expertise which takes a lifetime to accumulate.
The result? The Letterman Sweatshirt, by O&F Sporting – a nod to the lifestyle and fashion of the Ivy League and British sporting tradition. Your trustworthy companion, from competition to clubhouse.
The Classic Sweatshirt, by O&F Sporting. Buy online at

 

www.oandfsporting.com/collections/sweatshirts

 

or at selected stockists.